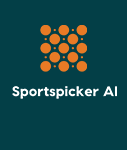 ROCKETS - MAVERICKS - WINNER DETECTED BY A.I. SYSTEM!
Release Date: Jul 31 - 8:04 AM
Sportspicker A.I. got off to a 1-0 start in the NBA last night! Regular Handicappers have hot streaks. The Sportspicker A.I. system gets hot and stays hot. That's because our picks are based on signals from our A.I. algorithms, not just a gut feel. Don't miss tonight's NBA winner!