NCAAB EVENT
Apr 1 2022 at 6:00 PM ET
Fresno St.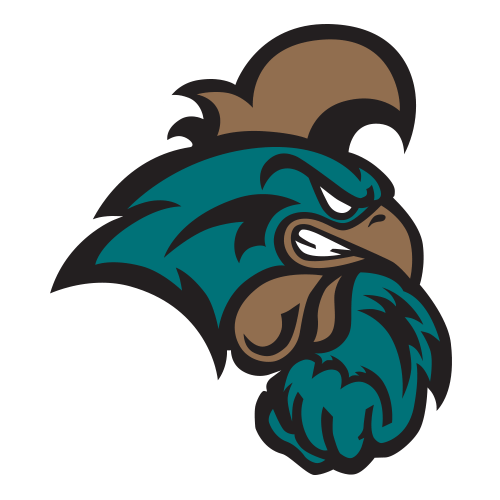 Coastal Carolina
Sport:

NCAAB

| Star Rating:

10.0

Evaluation: Loss (-1100)

- Final Score CCU 74 at FRES 85
Pick
3.5 CCU (-110) @ pinnacle
6 of 8 (75%) Experts with a pick against the spread are aligned. 10* play on the Coastal Carolina Chanticleers (Spread).
Capper Analysis:
Anthony Statler: 9* CBB Play of the Day
Oddsmakers are giving too much love to Fresno State tonight in this matchup. I had the game as a pick'em so when I saw that the line is 3, I hopped on Coastal Carolina.
The Chanticleers have covered in six of their last seven games overall, have been great of late against teams with winning records (4-0 ATS in their last four games against teams with a winning percentage above .600) and are 4-1 at the window in their last five games coming off a win.
Coastal Carolina also enter tonight's game playing slightly better offensively, averaging 72.3 points per contest over their last three games, compared to 69.0 PPG for Fresno over its last three games. The Chanticleers are also shooting 35.4 percent from deep, while the Bulldogs are hitting 33% of their shots from 3-point range. While those aren't huge differences, both teams have played well defensively in this tournament and we're getting 3 with Coastal.
Larry Ness: Larry's 10* TBC Best of the Best: 5-1 run
Justin Hutson is in his fourth season as head coach of the Fresno St Bulldogs, He won 23 games in his first season but entered the current season off 11-and 12-win seasons. However, this year's team did return all FIVE starters. The MWC was a tough league this season, as FOUR schools got NCAA bids, and Fresno finished just 8-9 in conference play. After losing its second game in the MWC tourney,19-13 Fresno has made the most of its postseason in TBC by winning THREE home games. However, Fresno is off to Conway, SC for the championship game of TBC to take on Coastal Carolina.

The Chanticleers' head coach is Cliff Ellis, who is in his 48th season and his 15th at Coastal Carolina. The Chanticleers were just 8-8 in the SBC and lost their first game of the SBC tourney. They entered TBC at 16-13 but three games later (two home wins and a 69-68 OT win at South Alabama), get to host TBC championship game in their home gym (HTC center).

Fresno St is led by 7-0 center Robinson (19.4 & 8.2) but what was a deep backcourt has been weakened by injuries. Hill (10.1) and Holland (9.6) have been steady all season but Holland has missed the last two games with a hamstring issue (questionable here). Baker averaged 12.0 PPG last season but made it through just FIVE games this season. Another guard, Ballard (5.3), hasn't played since the MWC tourney with an undisclosed issue. Coastal Carolina features a solid trio in guards Cole (15.4) and Williams (14.5 & 4.1) plus 6-9 center Mostafa (13.2 & 9.6). Four more players combine to add about 27 PPG.

Fresno St is on the road for the first time in this tourney and one can't ignore that Bulldogs have averaged just 63.2 PPG in road games this season. Coastal Carolina is 3-0 SU & ATS in this tourney and enters having covered SIX of its last seven, overall. A closing thought. This marks Ellis' 29th postseason tourney (10th with Coastal Carolina) and he has yet to win one. His 2017 Coastal Carolina team was the CBI runner-up, as was last season's team. Isn't it about time he wins one of these? My bet is Y-E-S!
Matt Fargo: Fargo's 10* CBB Friday Enforcer 67-49 YTD
The Chantileers rolled through their first two games with wins over Maryland-Eastern Shore and Florida Gulf Coast by 24 and 16 points respectively before sneaking past South Alabama on Monday. They are ranked No. 8 in shooting defense in the country and face a below average offense. The Chanticleers are 4-0 ATS in their last four games against teams with a winning straight up record. Fresno St. has rolled through its first three games but all of those came at home where they are 14-4 and they hit the road for the first time in the tournament where they are 5-8 this season. The Bulldogs have one of the worst scoring offenses in the country as they are ranked No. 314 in scoring offense. They do have a great defense but are facing an above average offense and are in a tough spot on the road after having travel issues as this game has to be rescheduled from Thursday The Bulldogs are 3-9 ATS in their last 12 games against teams with a winning straight up record. Here, we play on teams where the line is +3 to -3 averaging between 45 and 47.5 percent shooting going up against teams allowing between 40 and 42.5 percent shooting, in a game involving two teams with a +3 to +6 rebounding differential. This situation is 70-37 ATS (65.4 percent) over the last five seasons.
Scott Rickenbach: 100% PERFECT! 10* Situational Slaughter!
This game was supposed to be played Thursday but ended up being pushed back to Friday when the Bulldogs had charter flight issues trying to leave from home. Anything that breaks the routine or normalcy for a team is not a good thing. Certainly they have had time to adjust but the fact that Fresno State flew across country later than expected and allowed the Chanticleers to comfortably rest at home and have more preparation time is unlikely to help the visitors. I also like the fact that the Bulldogs are just a .500 team SU on the road this season and Coastal Carolina is a solid 13-6 SU at home. Considering that plus the fact the Chanticleers are getting 3 points here and score very well at home while the Bulldogs tend to struggle scoring away from home, I like the home dog a lot in this one!
The Insiders Room: 10* T.B.C. CHAMP GAME PLAY - 11-0 L4 DAYS
We had a play on under Xavier in the NIT Championship last night, and it turned out that we didn't even need the handful of points, as the Musketeers managed the straight-up victory.
Fresno State advanced to the Championship game by taking out Southern Utah by a score of 67-48. Orlando Robinson was a standout with 20 poitns.
Coastal Carolina had a much tougher time in its last outing, holding on for the 69-68 OT win over South Alabama led by 17 points from Rudi Williams.
Fresno State is on a roll, but those victories have come at home. On the road, the Bulldogs average just 63.2 PPG.
Give me COASTAL CAROLINA at home with the points, and don't be shocked by an outright upset.
Will Rogers: FRESNO ST/COASTAL CAROLINA: TBC FINAL!
I like Coastal Carolina to at least cover, and probably win, The Basketball Classic. They get this game at home where they've already won twice in the tournament - by 24 and 16 points. Things were a lot closer when the Chanticleers had to travel to face South Alabama on Monday. But they still came out ahead 69-68 in overtime and that is not an easy place to win at (South Alabama had just two home losses previously).
Fresno State has played all of its games at home for The Basketball Classic and I can't see them replicating Monday when they waxed Southern Utah by 19 points. That game saw the Bulldogs make more than 50% of their threes while the opponent shot terribly (31.1% overall, 20% from three).
Coastal Carolina is averaging 76.7 points per game at home. They outscore teams by 14.5 PPG here.
Fresno State averages only 63.1 points per game on the road. Their last road win came on February 22nd. It was against a terrible Air Force team. The Bulldogs are the favorites here and I'm not exactly sure why!
Coastal Carolina is at home, will obviously be motivated and getting points. What's not to like? FSU is 1-4 ATS its last five tries as a favorite.
Best of luck!
50%
off your first purchase
at covers experts
---
CLICK TO COPY PROMO CODE:
BONUS50
What does 'Star Rating' mean?
Star Rating is the number of units the handicapper is risking on the bet. Therefore, if the Star Rating is 7.0, it is a 7-unit pick. On plus odds picks, the handicapper is risking their Star Rating unit amount. On negative odds picks, the handicapper is betting enough to win their Star Rating unit amount.
What determines the lines/odds that are used?
We are constantly evaluating online sportsbooks and line feeds to ensure accuracy with our Expert picks. We typically have between 5-10 legal and reputable sportsbooks for our handicappers to select lines from. They are required to select the current line from these featured books so authenticity can always be confirmed – no stale lines!