Deal of the Day: March 9th - 16th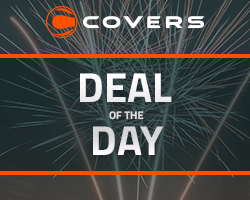 'Deal of the Day' is back by popular demand! Each day of each week, a different Covers Experts product or promotion will be available for 24 hours (12 PM - 12 PM ET).
Here's a sneak peek at this week's deals:
Monday, March 9th: $15 NHL Credits
Tuesday, March 10th: $15 NCAAB Credits

Wednesday, March 11th: $10 NBA Credits
Thursday, March 12th: Consensus Weekly $299 ($50 OFF)
Friday - Monday, March 9th - March 16th: March Mayhem $249 ($50 OFF)
Be sure to check back daily for exclusive savings on Picks & Subscriptions!
- Covers Experts Sales Team
Discounted Winners Start Here!
Sorry, today's free pick is not available at this time. Please check back soon.