3 Basic Sports Betting Concepts To Master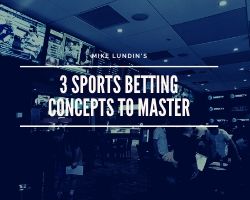 The thrill of sports betting is like no other, and it's even more enjoyable when you're making money! Here are 3 basic sports betting concepts to master which will increase the likelihood of collecting cash from your bookie.
Sports Betting Bankroll Management
Make no mistake; sports betting is gambling, so you never want to be in a position where you're putting an amount you cannot afford to lose at risk. Even bets you feel extremely good about and tick all the boxes can turn into a loser by an untimely turnover or a last-second 3-pointer.
That's why it's a good idea to set aside a certain amount of money which will be used solely for wagering. This allocation is referred to as your "bankroll", which can be a fund for your week, month, season or as an ongoing fund.
Wager Sizing
As a general bankroll strategy, a sports bettor would manage their wager sizes so their bets fall within 1% and 5% of their bankroll.
So for example, if your bankroll sat at $10,000, you would wager between $100 and $500 on any given game you choose to bet on. This way, you ensure that each bet is an amount you can afford to lose as losing $500 of a $10,000 bankroll would be way less of a blow than dropping a couple of dimes, which would also risk putting you on tilt.
When on tilt, it's easy to fall into the vicious cycle of trying to chase back your losses with even larger bets. This is a risky business as you most likely won't have a clear head and risk losing even more money with poor wager selections. The key to bankroll management is to work with what you have, never overextend and build your bankroll with steady earnings.
Line Shop Like A Pro – Sports Betting Strategy
Ask any winning sports bettor and they will emphasize how important it is to shop around sportsbooks for the best lines.
In order to effectively be able to shop around for the best lines you'll need to set up accounts with various online sportsbooks so when making a wager, you'll be funded at the sportsbook offering the highest value for a certain bet.
If you for example like the New England Patriots as a 7-point spread favorite, looking across several sportsbooks, or "outs", you might find one that offers the Patriots at as a 6.5-point favorite! This strategy does not only work with point spreads itself as there's also a noticeable difference in the implied probability (the percentage of times a bet needs to hit to breakeven) between -110 (52.4%) and -130 (56.5%).
While it might look like an insignificant difference between 56.5% and 52.4%, keep in mind that edges in sports betting are small. Depending on your wagering size, a single percent difference could add up to a significant amount of dollars saved/won over the long term.
Wager Sober And Stay Disciplined
There's no coincidence that Las Vegas casinos offer free alcoholic drinks. While alcohol or other recreational substances may be thought of as "confidence serum", they should equally classify as "recklessness serum."
If you want to be a winning bettor, it's important to remain in full control and keep a clear state of mind (at least when placing wagers!). To keep it simple; it's a bad idea to bet any significant amount of money on sports while you're under the influence.
However, as we all know though, we humans do not need to be under the influence of a substance to become emotional. Remember the vicious cycle of chasing losses mentioned in the bankroll management section? The same principle is true here.
When on a bad run with one unlucky loss after another or if you have other things weighing on your mind, step away for as long as it takes to clear your head.
It could be an hour, it could be a day or maybe even a week. The important part is that you need to be honest with yourself.
The takeaways from this article are to build your bankroll strategically with sensible bet sizing and remember that winning bettors always work on a clear head. All the strategy knowledge in the world won't help you if your judgment is impaired!

Premier: Watford vs. Norwich City
Pick:

Watford

Capper:
Start:

July 7, 2020 - 2:00 PM

Offered at:

pinnacle @ Watford (-147)

Analysis:
MIKE LUNDIN'S NORWICH @ WATFORD PREMIER LEAGUE FREE PICK
26-9 (74 %) +$16,630 Free Picks YTD (betting $1,000/game)
Two reeling Premier League teams will clash at Vicarage Road on Tuesday as Watford come in winless with three defeats and a draw since the restart while Norwich have four losses. I do like the home team to come through with a win in this one though.
Watford sit just above the relegation zone, one point ahead of Aston Villa and Bournemouth. Norwich are dead last, seven points behind Watford. It will be extremely difficult for Norwich to overtake three teams, and by the look of the players in recent games they've already all but given up on the season.
Watford meanwhile have been battling, but have had the misfortune of facing strong teams lately.
Norwich have lost 12 of their 16 away games on the season, and I think we're getting a more than fair price on Watford at home.
Free pick on Watford.
Mike is a solid 22-13 all soccer plays last 13 days, a sizzling 11-4 L15 SOCCER TOP PLAYS and +$35,000 for $1,000/game top play bettors across all sports dating back to September 2018.
Mike has four premium picks across Premier League, La Liga and Serie A for Tuesday. Purchase single packages or sign up for a subscription to receive all new picks as they are released.
show analysis
show less