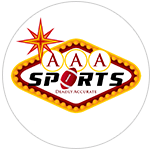 AAA Sports
@AAASportsPlays

Get access to ALL of AAA's 2021 NHL Playoff picks including all remaining Regular Season picks from May 1st onward.
NHL Playoffs *SPECIAL OFFER*
Saturday saw AAA Sports win their *10* MLB GAME OF THE YEAR as the Padres KILLED the Cardinals 13-3!
Congrats to all that got down on the BIGGEST play of the ENTIRE baseball season! But now that AAA is on an 8-1-1 run on the diamond, make sure to stay on board! They've got a CERTIFIED BEATDOWN ready to cash on Sunday!
Congrats to everyone that got on AAA Sports' 10* MLB Game of the YEAR winner last night as the Padres KILLED the Cardinals 13-3!
That wasn't the only win for AAA on Saturday either. They began the NHL Playoffs with a 10* on the Under in Bruins-Caps! Their first playoff side is set to cash on Sunday! (14-7 L21 NHL sides!)
AAA Sports won their MLB Game of the YEAR on Saturday as the Padres KILLED the Cardinals 13-3! A bad night in UFC somewhat tainted that GOY win, but the bottom line is AAA is still "in the black" for May! Speaking of being "in the black," NBA has made a WHOPPING $47,259 PROFIT since the start of the 2018-19 season! Final play for the reg season!
No products available at this time, check back later.
Are guaranteed and non-guaranteed picks the same?
Yes, the actual picks themselves are the same, only the purchase options themselves differ. 'Guaranteed' meaning no charge is applied unless the product shows a net profit and 'Non-Guaranteed' meaning the charge is applied regardless of the product outcome.
Are subscriptions guaranteed?
Because of the over 60% cost savings of subscriptions versus individual picks and pick packs, the "If you don't win, you don't pay " guarantee does not apply.
Is the payment process secure?
Absolutely. We do not store credit card information on the site, even if your card is saved to your profile or you checkout as a guest. We accept all major credit cards (VISA, MASTERCARD, and AMEX), and now also accept PayPal!