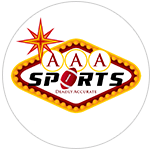 AAA Sports
@Covers_Experts

AAA Sports is back & BETTER THAN EVER! After going 100% OVERALL IN JUNE, they now sport a PERFECT 2-0 UFC record here in July!
Don't forget - from November 3rd through lockdown - AAA made their clients an INSANE $20,427 PROFIT! They're back inside the Octagon this Saturday. It's time to get back on board!
AAA'S UFC FIGHT NIGHT "ART OF WAR" >> ***100% UFC RECORD THIS MONTH!***
UFC
| Release Date: Jul 7 - 1:09 PM
This product is no longer available for purchase as it has expired
Despite sports being put on hold for several months, AAA has still managed to have a PHENOMENAL year, betting-wise! From November 3rd until lockdown, they made a $20,427 profit! Upon returning, they won EVERY play they released in June and have been UNSPEAKABLY brilliant the last three weeks, including a 5-0 RUN with UFC PICKS!
No products available at this time, check back later.
Are guaranteed and non-guaranteed picks the same?
Yes, the actual picks themselves are the same, only the purchase options themselves differ. 'Guaranteed' meaning no charge is applied unless the product shows a net profit and 'Non-Guaranteed' meaning the charge is applied regardless of the product outcome.
Are subscriptions guaranteed?
Because of the over 60% cost savings of subscriptions versus individual picks and pick packs, the "If you don't win, you don't pay " guarantee does not apply.
Is the payment process secure?
Absolutely. We do not store credit card information on the site, even if your card is saved to your profile or you checkout as a guest. We accept all major credit cards (VISA, MASTERCARD, and AMEX), and now also accept PayPal!