June Good Month/Bad Month Pitchers
CE Manager 6 hours, 59 minutes ago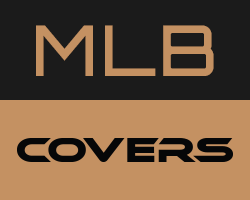 You know the saying, "May flowers bring June showers"? For Major League Baseball pitchers hurling during the month of June, showers are hopefully not in their immediate plans. Instead, it's the hope of all MLB starting pitchers to stay around long enough in their starts to avoid having to clean up and go home early.
Listed below are hurlers that have enjoyed a two-to-one or better success ratio in team-starts over the course of the last three seasons during the month of June. On the flip side, we've also listed pitchers that struggle in June, winning 33% percent or less of their team-start efforts. To qualify pitchers must have made a minimum of 10 starts, with at least one start each June over the last three years. And for your convenience alongside each record we break down each pitcher's greatest success or greatest failure rate either home (H) or away (A) within his good or bad month.
Note: * designates a categorical repeat appearance by this pitcher, maintaining status quo from last season's June list.
GOOD MONTH PITCHERS:
Arrieta, Jake • 8-4 (6-2 A)
Only Clayton Kershaw has been in Arrieta's stratosphere since 2015. The right-hander is in the right organization which has allowed his abundant talents to flourish and this season opposing batters are hitting a mere .168 against him. His effortless delivery and mid-90's fastball causes a lot of swings and misses as does his breaking pitches.
Cole, Gerrit • 10-2 (6-0 A)
Cole is now the ace of the Pittsburgh staff and expertly commands a two and four-seam fastball in the mid to upper 90's which he can sink or have riding action. After a sluggish start to season, his ERA is down to close to 2.50 and expect him to have another fine month. Note: Cole's numbers above reflect his career team mark during June.
*Colon, Bartolo • 10-5 (7-0 H)
The 43-year old right-hander just keeps churning along on staff that is very talented and youthful. Colon knows how and where to spot his fastball, which he tosses 70 or more percent of the time and blends in a quick slider that has excellent depth. The fact is Colon understands his craft and wins.
Lackey, John • 11-5 (6-1 H)
Remember for years no pitcher in his right mind would want to pitch at Wrigley Field, now they line up for the chance. Being a talented young team helps and Lackey is the right fit, with fastball he keeps low in the zone and sinker opposing hitters cannot elevate. Through two months, the batter's Lackey has faced are at a lowly .209 batting average and his WHIP is sick 0.97.
Sanchez, Anibal • 9-4 (8-3 H)
The Detroit hurler has gotten off to a rugged start with ERA over 6 as June began. Sanchez's problems revolve around lack of pitch placement, not even having 2-to-1 strikeout to walk ratio and giving up more than a hit an inning. Of the 58 hits allowed, 11 have left the yard and if the Tigers are going to be contenders in the AL Central, Sanchez will have to throw like previous June's.
*Scherzer, Max • 11-4 (6-2 A)
If you research Mad Max's numbers, many are at or below career norm, yet he begins this month with an ERA over 4. The problem is too many pitches right down the middle, which is why he on pace to give up 45 home runs (15 thru May). If Scherzer solves this, he will have a great rest of the year.
Tillman, Chris • 11-3 (4-1 A)
After an off year in 2015, the Orioles righty has come back in a big way. When he's at his best like he has been this year, Tillman works his low 90's heater at the knees on both sides of the dish and his curve and changeup have sharp downward motion. He starts this month with hitters at .203 batting average versus his tosses.
Volquez, Edinson • 11-5 (7-1 A)
The Royals right-hander is doing what he does best, as in nine of his 11 starts for Kansas City he has induced double digit groundball outs. Volquez is still thought to be a power pitcher and gets numerous weak swings with tilted curve and deluxe changeup he will throw on any count.
*Zimmermann, Jordan • 12-5 (8-3 H)
After an unbelievable start, Zimmermann has drifted back to the previous career numbers. He pulled a groin late last month, but is expected to make start on June 3rd and continue from that point. His strengths include four pitches he trusts to throw for strikes and he has shown greater durability thus far in the AL.
BAD MONTH PITCHERS:
Miller, Shelby • 6-12 (2-6 A)
After disastrous start with Arizona, having ERA over 7, maybe a trip to the DL with bad finger on throwing hand will settle Miller down, who looks like he is trying to throw a no-hitter on every pitch and is getting hammered. The talent has always been in place, just not the execution as this record shows.
Note: Miller's numbers above reflect his career team mark during June.
Verlander, Justin • 4-10 (2-5 H)
No longer equipped with high 90's fastball, Verlander tends to give up runs in bunches these days. He can be sailing along for three to five innings and then give up three or four runs in single inning. Without the necessary secondary pitches, he's become easier to hit a third time through the lineup.
Weaver, Jered • 5-10 (1-6 A)
It is sometimes tough to watch former aces who were among the best in the game, as their stuff is in decline and they are not close to what they used to be. This is the case of Weaver, whose fastball barely reaches 85 MPH, which makes his breaking ball and assortment of change-ups less effective. It is no accident at this juncture hitters are clocking him for .311 BA.
Hot Deal: $20 Tuesdays Are Back!
CE Manager 15 hours, 31 minutes ago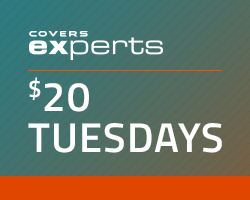 Here at Covers Experts, we are all about providing our customers with the best bang for their buck. With that in mind, we are thrilled to announce that $20 Tuesdays are back!
Every Tuesday of the week, you will have the opportunity to purchase Expert Picks for just $20 Guaranteed & $12 Non-Guaranteed. That is not a typo - get access to the strongest picks for a fraction of their full price. It's never been easier (or more affordable) to put together a winning ticket.
If you are intrigued by this offer yet unsure of which handicappers you should trust your bankroll to, let us guide you in the right direction.
To say the month of May has been a profitable one would be selling 'The Coach' short. Rogers just keeps delivering the goods day after day. Have a look for yourself with the follow mind-blowing runs:
29-7-1 (81%) Last 37 MLB Plays

50-21-2 (70%) Overall Last 18 Days
36-18 (67%) L54 Soccer Plays
$20 Tuesday picks include:
Rogers' MLB Coach's Clinic SPECIAL
Rogers' Tuesday Night ESPN FEATURE
Not to be outdone, 'The Iceman' has also breezed through May, showing off his expertise in a variety of sports. Schule enters the last day of the month with the following streaks in tact:
+$13,605 Overall in May
+$29,041 L126 NBA Plays

+$13,210 L100 Soccer Plays
$20 Tuesday picks include:
Schule's MLB MERCHANT of DEATH - **$20 Tuesday Special**
Teddy has gone a perfect 5-0 (100%) over the last 3 days to build some serious momentum heading into June. Being one of the most recognized names in the industry, the following stats should come as no surprise.
39-16 (71%) 10* Run
89% MLB Totals in May
83% Run w/ NBA Plays
$20 Tuesday picks include:
Teddy's MLB Absolute Annihilator: Massive Run Line Blowout
Quickly earning the reputation of a 'Playoff Guru', AAA Sports continues to dominate the books in post-season action. A solid 3-1 Monday added to these already eye-popping numbers:
26-11 (+$11K) Overall L10 Days
7-1 (88%) L8 10* NBA Plays
77-42 (+$20K) MLB Run-Line Streak
$20 Tuesday picks include:
AAA's Afternoon RUN-LINE DESTRUCTION
AAA's NATIONAL LEAGUE ASSASSIN
For all available Tuesday Expert Picks, click here.
Be sure to check back for more exciting daily deals and promotions throughout June!
Take it to the books!
- Covers Team
How do you start using Steamwire™?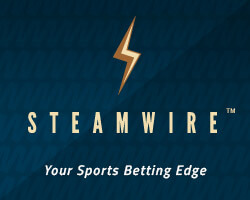 Here at Covers we like to keep things simple. That includes how to sign up for and start using Steamwire™. We also like free stuff because, let's face it, nobody likes risk, especially in sports betting. That's why we offer a FREE Steamwire™ trial period for 30 days with no obligation. Now you can use Steamwire™ for a full month before you buy.

How exactly do you start using Steamwire™? We'll break it down for you:

1. Create your FREE Covers member account
2. Purchase your FREE Steamwire™ 30-day trial
3. Access Steamwire™ on mobile, PC, tablet or Twitter
3. Get the Steamwire™ mobile app from the iOS app store or Google Play
5. After 30 days, your subscription will auto renew for only $19.99/month

Steamwire™ is only $19.99 per month – that's less than $1 a day! That's a pretty amazing deal when you think about it. For the price of a single subscription, get access to picks & analysis from a team of Covers Experts.

Pssst: pass it on! Refer a friend to Steamwire™ and get a Non-Guaranteed FREE Expert Pick of your choice. Sign them up and you'll get a free credit towards any individual Non-Guaranteed Expert Pick. Contact Covers Customer Support today to learn more!

Have more questions about Steamwire™? Make sure to visit Covers.com to check out Steamwire™ FAQs to make sure you get the most out of your FREE 30-day trial. Also feel free to email us or call Covers Customer Support at 1-800-840-9677.

The Covers Team
Weekend Recap: Rogers Stays Hot!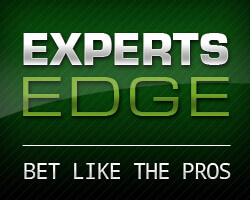 Covers Expert Will Rogers has been putting a beatdown on the books all month long and he continued that trend on Saturday and Sunday, posting yet another winning 5-2-1 weekend.
Will is a REMARKABLE 27-6-1 (82%) over his last 34 baseball releases. Going back even further he's 53-18-1 over his last 72 on the diamond!
Overall, Rogers is now 81-40-3 (67%) in the month of May, good for $24,234 of pure profit. That includes a run of picking 71% winners (47-19-2) over the last 17 days. Join The Coach's winning team on Monday for another profit haul!
NBA
Rogers' 10* 1st Half PLAYBOOK (GSW/OKC)
NHL
Rogers' NHL Stanley Cup Finals Game 1
MLB

HOT SUBSCRIPTION: Will Rogers' MLB Monthly - 31 days of baseball picks for just $299!
Despite a slow start for Covers Expert Brandon Shively, he's now found his groove and is getting back to the winning ways he is accustom to delivering a 3-0 (100%) Sunday and 9-1 L10, +$6,756. Monday's card features his NBA GAME of the WEEK, and also his NHL GAME of the WEEK, as well as a 10* play on the bases. Get all 3 with his Multi-Sport Pack!

NBA
GAME of the WEEK(10* NBA) Brandon Shively's GAME 7 THUNDER/WARRIORS WINNER
MLB
Brandon Shively's 10* MLB PERFECT 15-0 ATS TRIPLE ANGLE TOTALS WINNER (Early Game)
NHL
Game of the Week (10* NHL) Brandon Shively's TOP NHL SIDE WINNER of the WEEK!

HOT SUBSCRIPTION: Shively All Sports Weekly - 7 days of NBA/MLB/NHL picks for only $229!
Finally there is Power Sports. Calmly going about his business, winning nearly every single day this month. After going 3-1 Saturday, including a *10* on the Warriors, Power Sports went 3-1 Sunday as well including ANOTHER SWEEP In MLB! He's an INSANE 77-39 L116 MLB; 14-6 L20 NHL and 117-77-3 overall the last 37 days!
NBA
MLB
POWER-SMASH *SPECIAL* (Only $15!)
NHL

HOT SUBSCRIPTION: Power Sports' All Sports Monthly - 31 days of picks $499!
Your card is never complete without checking in on the Experts Consensus. Our premium product is now 231-149-9 (61%), +$61,877 in its last 389 picks! To put that into perspective, the average professional handicapper winning percentage is 54% and Experts Consensus has maintained a +60% win percentage for over five months straight.

If you are not already a subscriber or you're not buying the guaranteed picks, you're simply missing out. Join today and get access to Covers Experts' strongest picks!

SAVINGS ALERT: Jump on board for a month of Covers Experts' strongest plays now for only $799 ($1,399).
Don't forget: All new Covers Experts users receive (2) FREE winning picks- no purchase necessary!
Take it to the books!
The Covers-Team
Have You Redeemed Your 2 Free Picks?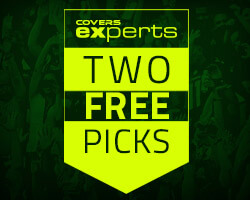 Becoming a Covers Experts member has never been as good as it is today. Not only will you get access to the very best in picks, tips and advice from industry leading handicappers, but we'll even let you try out our product for FREE!

You heard right. Join today and we'll give you two FREE winning picks (no purchase necessary). Here's how it works: add a credit card to your existing Covers account and once your account is verified, contact us to get your picks and cash in! Don't worry, you can redeem your two free winning picks at any time – they'll never expire.

As well, once your account is active you'll be able to purchase freely and access any picks which you have already bought. To view your chosen picks, simply click on the My Experts tab that is located on the top right-hand corner of the Covers Experts page beside the shopping cart.

New to Covers Experts? Well then this offer is for you! Get two FREE winning picks – no purchase necessary.

Click here to get started!

Customer Support: 1-800-840-9677
(10am - 10pm EST Mon to Fri. 9am - 10pm EST Sat - Sun)

Email us at: experts_support@coversmedia.com
Pick:

O (CLE at GS)

Capper:
Start:

June 2, 2016 - 9:00 PM

Offered at:

5dimes @ Over 210 -103

Analysis:
1* free play on CLE@GS to go OVER....


The NBA Finals get underway Thursday, and we'll see a rematch of last year's Finals when the Warriors defeated the Cavs to win the Championship. Last year the Cavs were short-handed, with Kevin Love and Kyrie Irving both sidelined due to injury. With Cleveland at full strength, we could see some higher scores than we saw in the Finals a year ago.

Here are my keys to the game:

1. Three-Point Shooting - The Cavs were not a three-point shooting team during the regular season, but they've been launching a ton of three-point shots in the playoffs. They broke an NBA record for made three-pointers in their series versus Atlanta, and averaged over 40 attempted three-pointers per game against the Raptors. The Warriors live and die with their long range shooting, as evidenced by Klay Thompson's heroic performance with 11 made threes in Game 6.

2. Previous History - The Warriors failed to reach the total in five of seven games versus the Thunder, but the number in those games was an average of 10 points higher than the number for Game 1 versus the Cavs. The last time these teams met, the Warriors won 132-98 at Cleveland. The Cavs have gone over in eight of their last 11 road games.

3. X-Factor - LeBron James is coming off his highest scoring game of the playoffs, totaling 33 points in 41 minutes in Game 6 versus Toronto.

Selection: This is a play on the Cavs@Warriors to go OVER the total (Free)
show analysis
show less