Thursday Night Football Forecast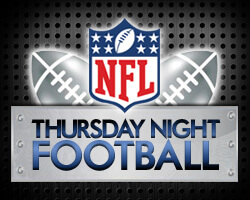 Oakland Raiders vs. Kansas City Chiefs | KC-3 O/U: 46
When: 8:25 PM ET, Thursday, December 8, 2016
Where: Arrowhead Stadium, Kansas City, Missouri
Derek Carr's spirited play during the Oakland Raiders' six-game winning streak has placed the third-year quarterback in the lively discussion for NFL MVP honors. Carr has thrown seven touchdown passes over his last three games and 12 during the winning streak as the first-place Raiders head into an AFC West showdown with the host Kansas City Chiefs on Thursday night.
Carr rallied Oakland from a 15-point halftime deficit in Sunday's 38-24 victory over Buffalo, all while working exclusively out of the shotgun/pistol to protect his injured right pinkie finger. "It brought me back to my Fresno (State) days a little bit, so that was nice with the tempo and those kind of things," said the 25-year-old Carr, who will look to avenge a far less effective performance in Week 6 when he threw for 225 yards in a 26-10 loss to Kansas City. The Chiefs kept Carr in park with a successful ground game, highlighted by Spencer Ware rolling up a career-high 131 yards and a touchdown. The 25-year-old Ware, who will look to light up the 29th-ranked Raiders' run defense that is yielding 124.8 yards per contest, also found the end zone in Sunday's 29-28 victory at Atlanta.
ABOUT THE RAIDERS (10-2): While Carr is being mentioned in NFL MVP discussion, defensive end Khalil Mack is hearing his name bandied about for NFL Defensive Player of the Year honors. Mack has registered at least one of his team-leading 10 sacks in each of the last seven games, while also recording four forced fumbles, three fumble recoveries and an interception in that span. Latavius Murray, who has three touchdowns in his last four encounters with Kansas City, scored twice last week to increase his rushing touchdown total to 11 - good enough for a tie for third in the league. Second-year wideout Amari Cooper collected 10 receptions for 129 yards in the first meeting with the Chiefs, but was limited to just two catches on Sunday versus the Bills.
ABOUT THE CHIEFS (9-3): Alex Smith, who has thrown 18 touchdowns against three interceptions in his last nine starts versus the Raiders, is expected to see the return of trusted target Jeremy Maclin on Thursday. Maclin was a full participant in practice on Tuesday and is in line to end a four-game absence due to a groin injury. Tight end Travis Kelce recorded his third straight 100-plus-yard performance after reeling in eight receptions for 140 yards versus the Falcons, but was limited to three catches for 32 yards in the Week 6 win over Oakland.
Expert Picks | Side:
Larry's 10* Thu Night PRIME-TIME PERFECT STORM (Raiders/Chiefs!)
Fargo's 10* NFL Thursday Night Primetime (4-0 Primetime Run)
Rogers' 10* AFC West TOP TICKET (Thursday Game) >> 1/2 OFF Limited Time Only!
Expert Picks | Total:
AAA's THURSDAY NIGHT "ART OF WAR!" (+$10,000 ALL NFL YTD!)
BIG AL's THURSDAY 10* NFL RAIDERS/CHIEFS TOTALS WINNER
*GOING FOR SEVEN STRAIGHT* THURSDAY 10* MAIN EVENT! (41-19 DEC-FEB NFL RUN!)
Enjoy the action!
- The Covers Team
$20 Tuesday: Save Big & Win Big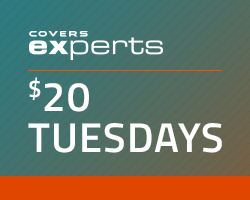 It's that time of the week again. $20 Tuesday is here, so let's take a look at what's in store for today and provide you with big winners at a great price!
Hot Cappers Last 7 Days
Steve Merril: 12-3-0 (80%), +$8,060
Experts Consensus: 11-5-0 (69%), +$5,750
AAA Sports: 20-14-0 (59%) +$4,778
$20 Tuesday Picks
NBA
FAN APPRECIATION 10* NBA BEST BET! (23-12/66% YTD!)
O/U POWER-BOMB *SPECIAL* ($20 Tuesday!) ~ AWESOME 13-5 NBA Totals Record!
Fargo's NBA Tuesday Enforcer (SOLID +$40,114 NBA run)
$20 TUESDAY>>SHIVELY'S 10* NBA TOP MONEY MAKER
NCAAB

FAN APPRECIATION 10* PERSONAL FAVORITE! (54-40 L94 CBB!)
*BLOWOUT SPECIAL* FAN APPRECIATION CBB ANNIHILATOR! (54-40 L94)
Fargo's 10* CBB Tuesday Ultimate Underdog (SWEET 60% Run)
NHL
Covers is your home for the best in sports betting deals!
- The Covers Team
Monday Night Football: Expert Picks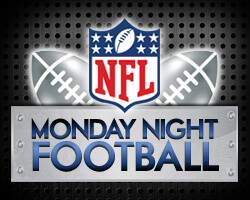 Indianapolis Colts at New York Jets (NYJ +2 | O/U: 48.5)
When: 8:30 PM ET, Monday, December 5, 2016
Where: MetLife Stadium, East Rutherford, New Jersey
The Indianapolis Colts are banking that the return of quarterback Andrew Luck can put the sputtering team on the fast track to the top of the AFC South. After sitting out one game due to a concussion, Luck likely will be under center on Monday night as the visiting Colts attempt to even their record with a date against the floundering New York Jets.
Backup Scott Tolzien (two interceptions) struggled to ignite the offense in a 28-7 loss to Pittsburgh last week, dropping Indianapolis one game behind division-leading Houston (6-5) and a half-game behind upstart Tennessee (6-6). "Sitting and watching is no fun," Luck said of his rare view from the sideline. "Playing is fun. Winning is fun." While the Colts are still in the thick of the race in the mediocre AFC South, the Jets have dropped three in a row to rest comfortably in the basement of the AFC East. Veteran Ryan Fitzpatrick threw for two touchdowns in a 22-17 loss to New England on Sunday and did the same in a 20-7 victory over Indianapolis in the last meeting on Sept. 21, 2015.
ABOUT THE COLTS (5-6): Luck's most trusted target is T.Y. Hilton (NFL fifth-best 942 receiving yards), and the elusive wideout is expected to play on Monday despite sustaining a back injury against the Steelers. Wide receiver Donte Moncrief reeled in a season high-tying six receptions last week and scored in his fourth straight game, although his yardage total (178) in that span doesn't jump off the page. Veteran Frank Gore has struggled in each of the last two games with just 78 yards on 33 carries, but the 33-year-old needs just 30 yards rushing to move past Hall of Famer Tony Dorsett (12,739) for eighth on the NFL's all-time list.
ABOUT THE JETS (3-8): Brandon Marshall reeled in his first touchdown reception since Oct. 9 on Sunday and looks to continue to torment the Colts, against whom he has 37 catches for 420 yards and four scores in his last three meetings. The veteran wideout is expected to be matched up against former Dolphins teammate Vontae Davis despite nursing knee and foot injuries that have prevented him from practicing on Thursday and Friday. New York could also look to exploit Indianapolis' 23rd-ranked run defense (116.3 yards per game) with veteran Matt Forte, who has amassed 508 yards from scrimmage and five touchdowns (four rushing, one receiving) in the past five contests.
Expert Picks | Side:
Teddy's Jets vs Colts Monday Night 8* Winner!
GAME of the WEEK (10* NFL) Shively's #1 Moneyline MoneyMaker of the Week!
Larry's 10* MNF PRIME-TIME PERFECT STORM (Colts @ Jets!)
Expert Picks | Total:
AAA's MONDAY NIGHT O/U BLOWOUT *BLOOD-BATH!* (EASILY HIT PACKERS L/MONDAY!)
Enjoy the action!
- The Covers Team
NFL Sunday Kickoff: Week 13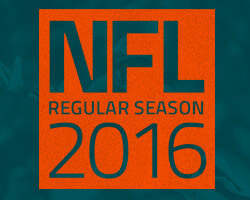 The first Sunday of December is upon us and just 5 weeks remain on the NFL regular season schedule. Let's check in on this week's board and look at who the pros are siding with on Sunday.
1:00 PM ET - Kansas City at Atlanta (ATL -5.5 | O/U: 50)
BIG AL's 100% PERFECT (17-0 ATS) NFL ROADKILL WINNER -- 10*
1:00 PM ET - Miami at Baltimore (BAL -3.5 | O/U: 41)
10* NFL Game of the Week (Will Rogers) >> Top Play in Week 13!
1:00 PM ET - Philadelphia at Cincinnati (CIN -2 | O/U 41.5)
Cimini's NFL Pay Dirt Touchdown
1:00 PM ET - Denver at Jacksonville (JAC +3.5 | O/U: 39)
BURNS' 10* BEST BET! (1:00 ET EARLY)
1:00 PM ET - Detroit at New Orleans (NO -6 | O/U: 52)
Game of the Week (NFL): Fargo's 10* NFL Game of the Week (+$31,940 L3+ Years)
4:05 PM ET - Buffalo at Oakland (OAK -3 | O/U: 48.5)
*10* NFL Game of the Week (Power Sports) ~ San Diego over Houston Last Week!
4:25 PM ET - Washington at Arizona (ARI -2.5 | O/U: 48.5)
10* Big Ticket: Teddy's NFL Game of the Week!
4:25 PM ET - N.Y. Giants at Pittsburgh (PIT -6 | O/U: 48.5)
AAA's 10* *NY/PIT* TOTAL BLOCKBUSTER (42-23, 65% ALL NFL FIRST 12 SUNDAY'S!)
8:30 PM ET - Carolina at Seattle (SEA -7.5 | O/U: 44)
Marc Lawrence 7* NFL Sunday Night Massacre!
For all NFL Expert Picks, click here.
For all NFL Monthly Packages, click here.
Take it to the books this Sunday!
- The Covers Team
Conference Championship Weekend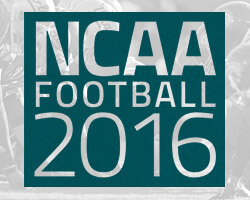 It's championship weekend in college football, as every conference in the nation will crown their champion ahead of the final playoff rankings. Let's set the table for the upcoming action and get you on the right side of all the big matchups.
AAC Championship: Temple vs. #19 Navy (NAVY -3 | O/U: 61)
When: 12:00 PM ET, Saturday, December 3, 2016
Where: Navy Marine Corps Memorial Stadium, Annapolis, Maryland
Side
Fargo's 10* NCAAF AAC Championship
*VERY EARLY* BURNS' BREAKFAST CLUB
Rogers' 10* Saturday Championship CA$H >> EARLY GAME!
BIG AL's NCAA FOOTBALL HIGH NOON HANGING
Total
SHIVELYS 10* NCAAF TOTALS ALERT SMASH WINNER

Conference USA Championship: Louisiana Tech vs. Western Kentucky (WKU -10 | O/U: 80)
When: 12:00 PM ET, Saturday, December 3, 2016
Where: Houchens Industries-L.T. Smith Stadium, Bowling Green, Kentucky
Side
*10* Top Championship Game POWER-PLAY ~ Early Saturday!
SEC Championship: #1 Alabama vs. #15 Florida (ALA -24 | O/U: 41)
When: 4:00 PM ET, Saturday, December 3, 2016
Where: Georgia Dome, Atlanta, Georgia
Side
AAA's 10* SEC CHAMP-GAME "RED DRAGON!"
Larry's Afternoon CFB Superstar Triple Play
Marc Lawrence College Football Perfect System Club Perfect Play!
Mountain West Championship: San Diego State vs. Wyoming (SDSU -6.5 | O/U: 61)
When: 7:45 PM ET, Saturday, December 3, 2016
Where: War Memorial Stadium, Laramie, Wyoming
Side
Teddy's Mountain West Championship Game $$
Fargo's 10* NCAAF MWC Championship
GAME OF THE WEEK (CFB) BURNS' CFB BLOWOUT GAME OF THE WEEK!
Total
ACC Championship: #3 Clemson vs. #23 Virginia Tech (CLEM -10 | O/U: 58.5)
When: 8:00 PM ET, Saturday, December 3, 2016
Where: Camping World Stadium, Orlando, Florida
Side
GAME of the WEEK (10* NCAAF) Shively's Top 'ATS' Pick of the Week!
Larry's Afternoon CFB Superstar Triple Play
Schule's ACC EXECUTIONER - **HOKIES vs. TIGERS**
Marc Lawrence 10* College Conference Championship Top Game Play!
Big Ten Championsip: #7 Penn State vs. #6 Wisconsin (WIS -3 | O/U: 47)
When: 8:00 PM ET, Saturday, December 3, 2016
Where: Lucas Oil Stadium, Indianapolis, Indiana
Side
GAME OF THE YEAR (CFB) Larry's 10* COLLEGE FOOTBALL SIDE OF THE YEAR!
*10* PRIMETIME POWER-HOUSE (Penn St vs. Wisconsin)
Cimini's Big 10 Title Clincher
Schule's BIG10 *BLOCKBUSTER* - PSU vs WISCONSIN
Total
GAME OF THE MONTH (CFB) BURNS' #1 TOTAL OF THE MONTH!
For all NCAAF Expert Picks, click here.
For all NCAAF Bowl Games Packages, click here.
Happy Championship Weekend!
- The Covers Team

NFL: New Orleans vs. Tampa Bay
Pick:

U (NO at TB)

Capper:
Start:

December 11, 2016 - 4:25 PM

Offered at:

bookmaker @ Under 51.5 -110

Analysis:
This is a Free #NFL play on NO@TB to go UNDER the total.
The Saints will be on the road at Tampa this Sunday, and the bookmakers are expecting plenty of scoring in this one. The total is over 50, which is much higher than it was in the previous six meetings between the two teams. They failed to reach the total in four of those six games, and two games that went over were played at the Super Dome in New Orleans. Drew Brees leads the NFL in passing, but he's coming off his worst game of the season, throwing for 326 yards and three INTs in a home loss to Detroit. The Saints have lost three of their last four games, going under the total in all three of those losses. The Bucs on the other hand have won four in a row, and have allowed opponents to average just 13 points during that span. The Saints seem to score most of their points against the league's weaker teams, which is part of the reason they've failed to reach the total in six straight against teams with a winning record. The under is 7-1 in their last eight games at Tampa Bay, and they've gone under in six of their last eight road games.
Take UNDER.
GL,
Jesse Schule
show analysis
show less