Pick Details
UFC FN 147 Parlay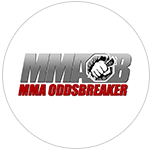 PICK: pinnacle @ -104 (True) - UFC FN 147 Parlay
DATE: March 16, 2019 - 5:00 PM
STAR RATING: 10.0
SPORT: UFC
EXPERT: MMA OddsBreaker
EVALUATION: Win (1000)
ANALYSIS:
This is a 10u parlay on Dominick Reyes (-241) + Nathaniel Wood (-260) for parlay odds of -104
Dominick Reyes vs Volkan Oezdemir – This is a fight with two very hyped prospects. Oezdemir's hype was derailed a bit in his last loss to Anthony Smith, but he was coming off a title shot before that. To me, Reyes is the next wave of top guys. He is a very explosive athlete and he has looked very impressive in his 4 UFC fights. I think his ceiling is much higher than Oezdemir's and I think the only way Reyes loses this fight is via KO. I expect him to be the better fighter anywhere this fight goes, and the only real worry is the power of Volkan. If Reyes doesn't get knocked out, then he is going to knock out Volkan or win a clear decision. I think he finishes Volkan though in the 1st or 2nd round and does it in dominant fashion.
Nathaniel Wood vs Jose Quinonez – Wood is going to have a ton of crowd support behind him here fighting in his home town. I have also been super impressed with what I have seen from him and I think he has a high ceiling in the sport. I expect him to be the better fighter anywhere this fight goes, and I think Quinonez is going to have to finish him to get a win. He isn't much of a finisher though, so I don't see that happening and I think if there is a play to make on this fight then it is Wood. He can piece Jose up on the feet and he can land takedowns and win the fight on the ground as well. The crowd is going to go nuts every time he does anything good, so I don't see how Jose wins a decision here even if he can keep it close. I think Wood puts him away on the feet at some point in this fight though and I see him getting a big step up for his next fight.