Capper of the Week: Al McMordie 22-4 in October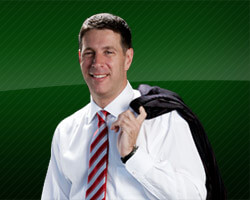 Another blowout NFL win with Philadelphia on Thursday brought Big Al's insane run to 22-4 (85%) with all sports in October, earning his clients an amazing +$17,475 over the last 11 days. He completely dominated the football card over the weekend and has no plans of letting up.

**USE PROMOCODE COW5AL for 15% off ALL of AL'S PRODUCTS until Sunday @ Midnight**
Let's have a look to see what got Al to the #1 spot:
10-1 (100%) NCAAF Week 6

7-1-1 (88%) NFL Week 5

4-2 (67%) MLB Divisional Round

Headline Winners:

STAR RATING: 9.0
SPORT: MLB
EVALUATION: Win (1485)
" The first playoff game at Atlanta's Sun Trust Park could also be the last game of their season. The Braves are down 2-0 in this series and have yet to score a run thanks to some pretty dominant Dodger pitching. But the home crowd should be amped up tonight so expect the young stars of Atlanta's lineup to respond accordingly. It may be LHP Sean Newcomb's first-ever post-season start (he pitched two scoreless innings of relief in game one) but at age 25 and in his second season, he's actually the veteran of this match-up. 24-year-old RH Walker Buehler also pitches in his first MLB playoff game for the Dodgers. One thing Newcomb can use as motivation is the fact that in his last start against this Dodger club -- back on July 29 -- he almost no-hit them, coming within one out from doing so in a dominant performance that resulted in a 4-1 Braves win. That performance was right here in Atlanta and no doubt Newcomb will take a repeat of that tonight. Take the Braves."
STAR RATING: 10.0
SPORT: NFL
EVALUATION: Win (1000) - Final Score BAL 9 at CLE 12
" The Ravens have won the last five games in this series, but that win streak should end this afternoon. Indeed, this is a horrid scheduling spot for Baltimore. Last week, it went into Pittsburgh, and upset its division rival, 26-14, as a 3-point underdog. Now, it has to play a second straight road game, and also against a division rival. Unfortunately, NFL teams favored against a division foe are an awful 69-96-5 ATS off an upset win on the road vs. a division foe, including 34-57 ATS vs. revenge-minded foes. "
PICK: 888sport @ 6.5 NYG (-104)
STAR RATING: 9.0
SPORT: NFL
EVALUATION: Win (900) - Final Score NYG 31 at CAR 33
"The Giants enter this game with a 1-3 SU/ATS record, while Carolina is 2-1 SU/ATS after having last week off. Some may be motivated to play on Carolina off its bye week, but my data do not reveal any advantage conferred in the regular season by the bye. It's true that the Giants were blown out last week by New Orleans, 33-18, and are only scoring 18.25 ppg. But outside of last week's loss, the Giants' defense has performed well, with their first three games all being decided by a single score. That bodes well for New York in this underdog role. Moreover, the Giants fall into an early season underdog system of mine which is 114-67 ATS, as well as 20-0, 65-22 and 55-20 ATS angles. And they're a solid 82-60 ATS as road underdogs off a home game."
Don't pass on this opportunity to save 15%! Lock in with Al McMordie and watch that bankroll swell
All Sports Monthly $499 - $424 w/ Promocode
NFL Regular Season + Playoffs $899 - $764 w/ Promocode
NCAAF Regular Season: $699 - $594 w/ Promocode
MLB Postseason: $199 - $169 w/ Promocode
Week 7 NCAAF Picks:
BIG AL's NCAA HIGH NOON HANGING

BIG AL's CHAMPIONSHIP CLUB: NCAA CONFERENCE BEST OF THE BEST 10*
BIG AL's PERFECT 10 CLUB: 100% (18-0) NCAA WINNER
Week 6 NFL Picks:
BIG AL's RED-HOT 10* THURSDAY NFL HIGH ROLLER
Game of the Month (NFL): BIG AL'S RED-HOT NFL GAME OF THE MONTH
BIG AL's CHAMPIONSHIP CLUB: NFL DIVISION TOTAL BEST OF THE BEST 10*
Best of luck and take it to the books!
Covers Team

NHL: Calgary vs. Montreal
Pick:

MON

Capper:
Start:

October 23, 2018 - 7:30 PM

Offered at:

pinnacle @ MON (105)

Analysis:
Al McMordie released 3 EXTREMELY STRONG plays Monday and swept the board with a 3-0 Ticket. Big Al's BIG WINNERS included his NBA Championship Club 10* on the Wizards and Hockey Blowouts on the Capitals & Hurricanes. Big Al's now 52-25 his last 77 and is firing on his STRONGEST Hockey Play yet. It's Big Al's 10* NHL Game of the Month! Go get it!
At 7:35 pm, our complimentary selection is on the Montreal Canadiens over the Calgary Flames. Last season, Montreal was historically bad, posting its lowest point total for a full season since the turn of the century. And so far anyway, the Canadiens are one of the most improved clubs -- albeit very early in the season. Montreal has lost just one game in regulation (to the Kings on 10/11) while winning four and losing two in OT (including the last one in Ottawa). Montreal seems to be weathering the loss of Shea Weber -- out until December with a foot injury -- just fine so far, and if Carey Price can earn his hefty salary then the Habs could get back to the post-season. Despite their struggles, the Bell Centre -- the Canadiens' home arena -- is still one of the toughest places in the league for opposing teams. The biggest question mark with the Flames is between the pipes. Goalie Mike Smith was the team's MVP in the first half of last season, but fell apart after that. He is 36 years old this season and the Flames did not address that need in the off-season so Smith will continue to carry the bulk of the load. Take the Habs. As always, good luck...Al McMordie. And don't miss any of my red-hot winners. We were 3-0 yesterday, and are now 52-25 our last 77. Join for a week or month to get all of our Award-Winning plays, including our NHL Game of the Month tonight!
show analysis
show less