World Cup Semi-Finals Preview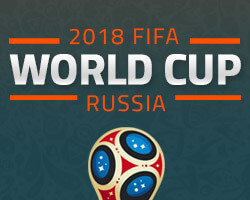 The 2018 World Cup semi-finals have been set after Saturday saw England and Croatia advance to meet. They will join the previously victorious Belgium and France who match up in the first semi-final. Find out which cappers have locked in their picks on these two highly intriguing games!
Not sure which Expert to go with? Check out these outstanding World Cup records since day 1:
Soccer Authority: 28-18 (61%) +$8,254
Mark Lawrence: 29-26 (53%) +$9,844
Jesse Schule: 26-15 (63%) +$8,568
Semi-Finals: Game 1: France vs Belgium: 2:00 PM ET Tuesday July 10th
Schule's WC2018 AFTERNOON EXECUTIONER - BEGLIUM vs FRANCE
Marc Lawrence World Cup Day 22: 10* Kill Play! Tuesday
Soccer Authority: Belgium vs. France
GAME OF THE YEAR (WORLD CUP SOCCER) 10* TUESDAY SOCCER GAME OF YEAR!
Ricky's EARLY ACTION at the 2018 World Cup - BELGIUM/FRANCE
MIKE'S BELGIUM v FRANCE WORLD CUP SEMI-FINAL TOTAL
BIG AL'S 10* WORLD CUP FRANCE/BELGIUM ELITE INFO WINNER!
Game of the Week (Soccer) - Ricky's BELGIUM/FRANCE BEST BET!
Rogers' WORLD CUP SEMIFINAL #1 (Belgium/France) >> SWEPT Quarterfinals!
Semi Finals: Game 2: England vs Croatia: 2:00 PM ET Wednesday July 11th
Marc Lawrence World Cup Day 23: Monster Play! - Wednesday
AAA's WORLD CUP SEMI-FINALS SUPER-BLOWOUT (3-1 L4 W.C. PICKS!)
Soccer Authority: England vs. Croatia
SCHULE'S WC2018 AFTERNOON EXECUTIONER - ENGLAND VS CROATIA
Schule's WC2018 T-E-R-M-I-N-A-T-O-R (54-27 Last 2 World Cups)
Ricky's EARLY ACTION at the 2018 World Cup - CROATIA/ENGLAND
GAME OF THE WEEK (SOCCER): MIKE'S ENGLAND v CROATIA WORLD CUP *BEST BET*
GAME OF THE YEAR (WORLD CUP): BIG AL'S 10* WORLD CUP SOCCER GAME OF THE YEAR!
EXPERTS CONSENSUS: Check out the strongest picks on the board from Expert Consensus, who have gone 10-4 (71%) over it's last 14 World Cup picks! We have Semi-Final *Blockbuster* (3-0, 100%) available now! In addition, we have other Experts Consensus plays out for today and many more to come. Don't miss a single play!
The Covers Team

NFL: Tampa Bay vs. Chicago
Pick:

CHI

Capper:
Start:

September 30, 2018 - 1:00 PM

Offered at:

888sport @ -2 CHI (-110)

Analysis:
BURNS FREE NFL
Though I successfully played against them at Arizona, where they failed to cover, the Bears still found a way to win the game. They're now 2-1 and could easily be 3-0. They know that they can ill afford to "relax" though. After this game, the Bears are on the road (at Miami) and then they host New England. In other words, taking care of business here is key. With the Bucs off a Monday night game, playing on a short week, expect the Bears to "keep on rolling," covering the small number along the way. Consider Chicago.
Burns was a PERFECT 3-0 with his "top-rated" plays on the weekend, winning with Stanford/Oregon 'over,' the Arizona Cardinals & the Carolina Panthers, his NFL G.O.Y. Congrats to the many who cashed. Having a MASSIVE MONTH, Ben is now a SIZZLING 17-6 over the L6 days, a SICK 7-1 with top plays. While WINNING BIG in Sept. IS important, its Burns' long-term success, particularly with his BIGGEST plays, which really sets him apart. Top plays on a multi-year run which has produced $84,530 IN PROFITS. All records on the line Monday!
show analysis
show less