World Cup Value Bets!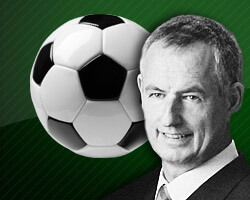 Lowest Scoring Team
Australia are the favourites for this particular bet, and for good reason. They face reigning champions Spain, 2010 runners-up the Netherlands and everybody's favourite hipster team Chile in the group stage. Chile are coming into the World Cup in good form and their fast-paced attack will have Australia chasing shadows for 90 minutes. Despite the Netherlands' inexperienced squad, Louis van Gaal will have them well drilled for victory in the second group stage, while Spain, who may have qualification sewn up by game three, have an exceptional squad that is unlikely to ship goals against Australia – regardless of who Vicente del Bosque starts.
Team Top Scorers
There's plenty of value to be had backing a particular team's top scorer. If you think Lionel Messi will be shy in front of goal and will struggle to get out of the one-goal record he holds with Robbie Keane, then Sergio Aguero or Gonzalo Higuain to top Argentina's charts at 7/2 is tremendous value.
Yaya Toure is also 7/2 to be the top scorer for Ivory Coast. Sure, there's Didier Drogba, but Toure is likely to be on set piece duty and on the back of an incredible goalscoring campaign from midfield.
Finally, Jozy Altidore is 6/1 to be the United States' top scorer. Now hear me out on this – yes, he only scored one goal for Sunderland last season, but he scored twice against Nigeria in America's final friendly and now has 23 international goals to his tally, a decent return for a 23-year-old. Plus – it won't take much to be USA's top scorer in a group that has Germany, Portugal and Ghana.
Top Scorer
It's Bosnia & Herzegovina's first World Cup and they're being tipped by many to be the dark horses in a group that they are more than capable of progressing from. With talented players such as Miralem Pjanic Senad Lulic providing for him, Manchester City striker Edin Dzeko could easily rack up a Golden Ball winning five goals in the group stage alone. The striker has been in a rich vein of form in the friendlies and faces Iran and Nigeria in the group stage, the same Nigeria who shipped two goals to Jozy Altidore. Argentina isn't known for their defence, either…
A more likely bet would be Karim Benzema. The Frenchman has been in scintillating form in the run up to the World Cup in an exciting, creative young French side. Two fine goals against Jamaica on Sunday will have him hungry for more against Honduras, Switzerland and Ecuador in Group E.
Golden Ball
This award goes to the player of the tournament and if his friendlies are anything to go by, Neymar is really up for the World Cup. Really. The Barcelona star is a superstar in his home country and will have every stadium from Sao Paolo to Rio de Janeiro chanting his name. He's likely going to score a lot of goals and if Brazil goes all the way to the final, will it really be because of anyone else? If you think Brazil will go all the way there's slightly more value taking Neymar to be player of the tournament.
If you scoff at favourites, then look no further than Andres Iniesta at around 25/1. Along with Xavi, the Barcelona player is still the talisman of this Spanish side which is more or less the one that went all the way in South Africa in 2010. Can lightning strike twice? Iniesta has looked tremendous in friendlies and will be at the heart of any Spanish inquisition in Brazil.

NCAAF: Massachusetts vs. Rutgers
Pick:

RUTG

Capper:
Start:

August 30, 2019 - 7:15 PM

Offered at:

Isagaming @ -14 RUTG (-110)

Analysis:
9* as FREE PLAY!
WELCOME!
Rutgers is one of my favorite plays week 1. I have always felt that taking care of my customers FIRST...worrying about my bottom line later...is the best way to go about my business.

BIG PICTURE:
A MUST WIN for Rutgers...off 1-11 with maybe 1-2 more (really) 'winnable' games left, if Ash doesn't win here he and ALL his assistants can call their wives and tell them to start packing. UMass is clearly in a YEAR ZERO situation under new HC Walt Bell, and will be in a LEARNING mode here...as Bell's priority will be installing not only his O & D, but the 'culture' he wants...doing things HIS WAY.
RUTGERS:
True...Rutgers does in fact stink. And laying 13+ to anybody at first glance seems a dicey propostion. KEY here is that when they have had a chance to beat somebody up / have some fun for a change...they have done well, a 13-16 loss to (severely underrated) E.Mich notwithstanding. I also like that they have had MANY opportunities to quit under HC Ash, but have continued to play hard. Last year off 6 beat-downs in a row...they covered their last 5, almost beat Sparty and NW.
Transfers are a tiresome, and maybe overrated subject...but they do add a few guys that might contribute. QB McLane Carter (starter / inj) at Texas Tech should either beat out Sitkowski, or if not then A.S. is much improved. They add 2 fine TE's (UCLA / BC) and maybe huge add to D in LB Singleton (Michigan). They do have 2 solid and explosive RB's to take the pressure off the QB. The pressure here is increased with a road game with Iowa on deck, followed with B Coll. at home with @ Michigan next. The Scarlet Knights have in fact covered 15 of last 24 so there are bright spots.....
UMASS:
The most important part of this bet.... A really bad team last year with an excellent HC in Whipple (and great offensive mind), with one of their most talented rosters in awhile. Only 5/3 starters return (RP #128). Weak in the trenches, slow on the perimeter, and shouldn't be able to DISRUPT...what Rutgers tries to do offensively (only 10 sacks LY). As mentioned earlier, their preparation for this game will not (really) be on competing / winning this game...but on learning / building a culture / getting ready for a LONG SEASON. Plus they can look forward to 4 'winnable' games on deck, and 2 more later on, so this game not really needed for a bowl.
STRATEGY:
This one opened at 10-11 offshore early June, was bet up to 14-15 a few days later, where it has settled in since. Currently 14' at most books, as low as 14 others. If 14'+ is the best you can get I would wait a bit to see what happens. IMO this should be an 'all or nothing' type game (Rutgers crushes / or game very tight or they lose SU). So if somehow it rises to 15-16 instead of dropping, it probably won't matter just too much. If played LY, the line would have been 5 or so, plus in the past UMass has been a tough road dog in spots (8-2 run at one point). Therefore I would expect this one to drop to 13-13' at some point closer to game, as sharps see value in UMass.
BEST OF LUCK!
RP= returning production (from Bill Connelly - better that simply starters back)
S&P= BC again - a measure of O & D efficiency (garbage time / SOS adjusted)
SOS= strength of schedule
LY= last year
SU= straight up winner (v ATS = against the spread)
HC= head coach
show analysis
show less