World Cup Value Bets!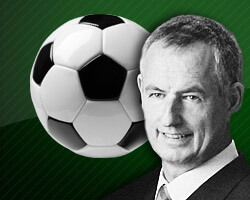 Lowest Scoring Team
Australia are the favourites for this particular bet, and for good reason. They face reigning champions Spain, 2010 runners-up the Netherlands and everybody's favourite hipster team Chile in the group stage. Chile are coming into the World Cup in good form and their fast-paced attack will have Australia chasing shadows for 90 minutes. Despite the Netherlands' inexperienced squad, Louis van Gaal will have them well drilled for victory in the second group stage, while Spain, who may have qualification sewn up by game three, have an exceptional squad that is unlikely to ship goals against Australia – regardless of who Vicente del Bosque starts.
Team Top Scorers
There's plenty of value to be had backing a particular team's top scorer. If you think Lionel Messi will be shy in front of goal and will struggle to get out of the one-goal record he holds with Robbie Keane, then Sergio Aguero or Gonzalo Higuain to top Argentina's charts at 7/2 is tremendous value.
Yaya Toure is also 7/2 to be the top scorer for Ivory Coast. Sure, there's Didier Drogba, but Toure is likely to be on set piece duty and on the back of an incredible goalscoring campaign from midfield.
Finally, Jozy Altidore is 6/1 to be the United States' top scorer. Now hear me out on this – yes, he only scored one goal for Sunderland last season, but he scored twice against Nigeria in America's final friendly and now has 23 international goals to his tally, a decent return for a 23-year-old. Plus – it won't take much to be USA's top scorer in a group that has Germany, Portugal and Ghana.
Top Scorer
It's Bosnia & Herzegovina's first World Cup and they're being tipped by many to be the dark horses in a group that they are more than capable of progressing from. With talented players such as Miralem Pjanic Senad Lulic providing for him, Manchester City striker Edin Dzeko could easily rack up a Golden Ball winning five goals in the group stage alone. The striker has been in a rich vein of form in the friendlies and faces Iran and Nigeria in the group stage, the same Nigeria who shipped two goals to Jozy Altidore. Argentina isn't known for their defence, either…
A more likely bet would be Karim Benzema. The Frenchman has been in scintillating form in the run up to the World Cup in an exciting, creative young French side. Two fine goals against Jamaica on Sunday will have him hungry for more against Honduras, Switzerland and Ecuador in Group E.
Golden Ball
This award goes to the player of the tournament and if his friendlies are anything to go by, Neymar is really up for the World Cup. Really. The Barcelona star is a superstar in his home country and will have every stadium from Sao Paolo to Rio de Janeiro chanting his name. He's likely going to score a lot of goals and if Brazil goes all the way to the final, will it really be because of anyone else? If you think Brazil will go all the way there's slightly more value taking Neymar to be player of the tournament.
If you scoff at favourites, then look no further than Andres Iniesta at around 25/1. Along with Xavi, the Barcelona player is still the talisman of this Spanish side which is more or less the one that went all the way in South Africa in 2010. Can lightning strike twice? Iniesta has looked tremendous in friendlies and will be at the heart of any Spanish inquisition in Brazil.
Pick:

O (WIN at ANA)

Capper:
Start:

April 18, 2015 - 10:30 PM

Offered at:

allyoubet @ Over 5 -140

Analysis:
These two teams have now played FIVE of their last six games over the total when playing in Anaheim...
My free play is on Anaheim/Tampa Bay Over at 10:35 ET.
Anaheim rallied from a 2-1 deficit in the third period to defeat Winnipeg 4-2 in the opening game of this series. The Ducks' top-line of Corey Perry and Ryan Getzlaf got rolling in that final period, as Perry scored twice while assisting on Getzlaf's goal that ended the game. It is hard not to conclude from that onslaught that Anaheim's superstars are a level above and beyond the capable but unspectacular set of defensemen that the Jets have to offer. The dilemma for the Jets' head coach Paul Maurice is that if he focuses too much of his players and energies on that dynamic duo of Perry and Getzlaf, that will open up opportunities for Ryan Kesler who anchors a very powerful second line for the Ducks. The over is now 12-4-6 in Anaheim's last 22 games in the Western Conference quarterfinals after Game 1 of this series finished over the toatl of five. The over is also 5-1-1 in the Ducks' last seven home games against teams with a losing record on the road. Goalie Frederik Andersen was up to the task in the opening game by stopping 25 of the 27 shots Winnipeg peppered him. However, Andersen remains a question mark between the pipes given that he had a mediocre 2.56 goals against average and .906 save percentage after the All-Star break prior to Thursday's game. If it were not for John Gibson's upper body injury, Andersen may not have been head coach Bruce Boudreau's choice to be in net to begin this series. Gibson will be ready to go sometime during this series which means Andersen will be looking over his shoulder. He can blow up at any time in this series.
Winnipeg will likely play this game fast-and-loose after blowing that 2-1 lead on Thursday. Stealing Game 2 of this series remains a luxury rather than a necessity for this team, which should remain confident that it can win this series despite being an 8-seed. The Jets have now played NINE of their last 13 road games over the number against teams with a winning percentage over .600 on their home ice. However, the concern this team has but will not dare mention out loud is that goalie Ondrej Pavelec has lost his magic after an incredible second half of the season, where he culminated his 1.98 goals against average and .932 save percentage with three straight shutouts on the road. While Pavelec's play definitely put his team in a position to win the opening game of this series, the fact remains he gave up four goals on just 33 shots. His Game 1 numbers are reminiscent of his unspectacular 2.86 goals against average and .908 save percentage career numbers that he began this series with rather than the lightning in the bottle numbers he put up in the second half of the season after winning his job back from backup Michael Hutchinson. These two teams have now played FIVE of their last six games over the total when playing in Anaheim. Expect another game to finish over the number in Game 2 of this series. Take the over.
Good luck...Larry
show analysis
show less