Meet Our Newest Expert: Monster Roster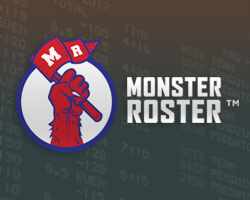 WELCOME MONSTER ROSTER
We couldn't be more excited to welcome Monster Roster to the Covers Experts team.

Monster Roster was founded in 2014 on the principal of using analytics and machine learning to achieve success in predicting outcomes for player performance in the NFL, NBA and MLB.

Monster Roster believes in only supplying the "best bets" that factor into their algorithmic recommendations, the current vig & line, and the highest probability of success to help you maximize your profitability.

Check our some of Monster Roster's accomplishments:

NBA Props Overall s/March 17: 57.7%
MLB Props Overall s/May 28: 56.4%
MLB Game Bet Underdogs: +$10,145 profit
BASEBALL PRICE DROP

We're just past the halfway mark of the MLB Regular Season so that means an Experts price drop! Now save BIG on any Covers Experts 2018 MLB Regular Season Subscription.

Get the best in Baseball picks and advice to take you to the end of the Regular Season. Not sure which Expert to go with? Check out their hottest records to the All-Star break:

Zack Cimini: 66W – 51L (56%), +$14,616
Swish Insider: 66W – 50L (57%), +$14,375
Larry Ness: 181W – 153L (54%), +$7,906
Take it to the books!
- Covers Team


MLB: Boston vs. Philadelphia
Pick:

PHI

Capper:
Start:

August 15, 2018 - 7:05 PM

Offered at:

betnow @ PHI (120)

Analysis:
Phillies
My free play is on the Phil Phillies at 7:05 ET. The Boston Red Sox won again last night, as a pinch-hit, go-ahead homer in the eighth inning led to a 2-1 victory over the Philadelphia Phillies. It was Boston's fifth straight win and 11th in 12 outings to open August. The Red Sox are currently on pace to win 115 games and sit 10 games of the Yankees in the AL East. Meanwhile, the Phillies have mustered just nine runs en route to losing four of their last five games, dropping them two games behind National League East-leading Atlanta. Philadelphia currently owns the second NL's wild card spot and the Phillies sit just one game behind Milwaukee. However, the wild card field is crowded, as the Cards are just one game back of the Phillies, with the Rockies 1 1/2 games back and the Dodgers 2 1/2 games back.
Nathan Eovaldi (5-4, 3.74 ERA) began the 2018 season with the Rays but was traded to the Red Sox before the July 31 deadline. He began his Boston career with consecutive scoreless starts but allowed eight runs (just four earned) in just 2 2/3 innings in Friday's 19-12 win against Baltimore (Eovaldi had a no decisions). Eovaldi takes the mound with a 3-4 mark with a 3.51 ERA in nine career starts versus Philadelphia. Vince Velasquez (8-9, 3.98 ERA) comes off 6-0 loss at Arizona in his last outing (four runs in four innings). The Phillies are an unimpressive 9-13 in Velasquez's starts in 2018. He has faced the Red Sox just once in his four-year big-league career, as a member of the Houston Astros back in 2015. In that contest, he gave up three runs and struck out seven batters in six innings in an 8-3 win.
The Philadelphia offense has struggled in the last week, as the team has scored just 16 runs in its last seven games (2.3 runs per game), going 2-5 in that stretch. However, while Boston's easily owns MLB's best record and the Red Sox lead the majors in runs scored (among a bevy of other offensive categories), they have scored just five runs in taking two of three from the Phillies in 2018. I'm not sold even a little on Eovaldi plus will note that previous to Velasquez's most recent start, he had allowed only five ERs over 32 1/3 innings of his prior six starts (1.39 ERA). Boston can't win them all. Take the Phillies.
Good luck...Larry
show analysis
show less