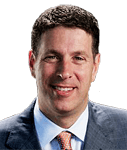 BIG AL's WEDNESDAY 10* MLB MOUND MISMATCH MASSACRE!
Release Date: Jul 11 - 2:21 AM
Al McMordie CASHED 2 of 3 in Baseball last night, with winners on the Angels and Nationals. On Wednesday, Big Al's firing on this 10* Major League Baseball Mound Mismatch Massacre! It's backed by and 83% winning angle, so get on board, and get the CASH!
Last 10 Picks
7 - 3 ( 70% )