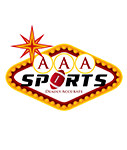 3-GAME FRIDAY NIGHT ALL INCLUSIVE RED-DRAGON SUPER PASS!
Release Date: Nov 8 - 6:33 PM
ALL POINTS BULLETIN: AAA Sports has uncovered three UNBELIEVABLE opportunities on Friday night, one in the NBA, one in College Hoops and one in the NHL! These three picks have now been stamped with top rated 10* SIGNATURE "RED DRAGON" status! Get any individually, or grab all three in their "RED DRAGON" super report!
Last 10 Picks
5 - 5 ( 50% )